---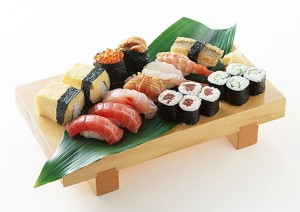 Sushi is a Japanese specialty based on boiled rice seasoned with a sweetened rice vinegar. This glossy, sticky rice mixture is called sushi mesi.
There are many varieties of sushi, and while some are made with raw fish, others include ingredients like cooked seafood, eggs and tofu, or vegetables like cucumbers, avocados and mushrooms. Sushi can be served as an appetizer, snack or full meal. It is often accompanied by pickled ginger, wasabi and soy sauce for dipping.
---
3 stars
DE KARMELIET
BRUGGE
HOF VAN CLEVE
KRUISHOUTEM
HERTOG JAN
SINT-MICHIELS
2 stars
't Zilte
Antwerpen
SEA GRILL
BRUSSEL
COMME CHEZ SOI
BRUSSEL
LE FOX
DE PANNE
DANNY HORSEELE
DUDZELE
---
---
---
---
---
---
---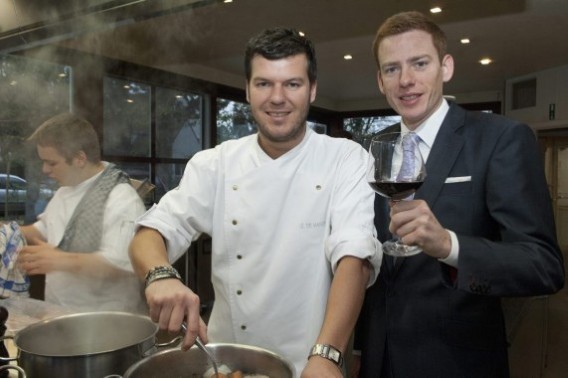 Gert De Mangeleer and Joachim Boudens Chefs at restaurant Hertog Jan in Brugge are the new "Cullinary personalities of Belgian Gastronomy" 2012. This was announced sunday 18/11 at Horeca Expo in Ghent.
An expert jury nominated eight candidates. The title goes to a belgian gastronomer who accomplished pioneering work in the past year or contributed in a meritorious way to the culinary industry.
"Gert and Joachim succeeded with Hertog Jan to gather (starting from none) 3 stars in a time span of just seven years. Gert belongs to the 3 youngest 3-star chefs in the world, " according to organizer Horeca Expo. "Joachim, partner and supervisor, achieved in 2004 the degree of First Sommelier of Belgium and was nominated in 2011 way ahead of the other candidates "Sommelier of the Year". The two friends are working on a new project on their farm with an own vision on ecology and their own vegetables.
source: http://www.standaard.be/artikel/detail.aspx?artikelid=DMF20121118_063
---