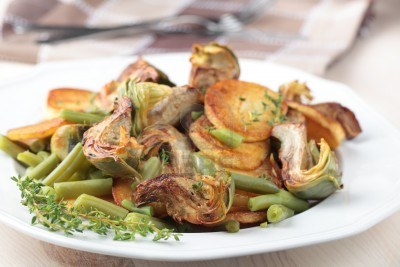 Artisjokken waren al in de tijd van het Oude Egypte bekend als voedings- en dieetplant. Artisjok is een groene groente en zorgt ervoor dat het cholesterolgehalte vermindert. Ook heeft het een reinigende werking van het bloed. Dit komt doordat de stoffen van de artisjok werken bij de zwelling van de lever en bij geelzucht, verder heeft het een positief effect op het ontgiften van de lever en het kan zelfs de kans op galstenen verminderen.
De artisjokken bevatten bittere stoffen, waardoor de galafscheiding meer wordt en de levercellen meer beschermd worden. Verder heeft deze bittere stof een positieve werking op de vetstofwisseling. Om een geregelde vetverwerking te hebben, heeft u voldoende galsap nodig. Heeft u dit niet, dan krijgt u een hogere bloeddruk en neemt de kans op aderverkalking toe. Symptomen die wijzen op te weinig galsap zijn bijvoorbeeld een vol gevoel hebben, misselijk zijn of buikpijn hebben. De artisjok is dus een belangrijke groente want ze zorgt voor daling van het cholesterol en beschermt de bloedvaten en de lever.


Ondanks dat de artisjok een positieve bijdrage levert aan het verbranden van vet, is het geen middel om meer vet te kunnen eten. Direct na de maaltijd kan de artisjok het beste zijn werk doen. Vooral wanneer u een feestje heeft of uit eten gaat in een restaurant. Hier eet u over het algemeen meer en vetter dan anders.
recept: http://nl.123rf.com/photo_12398777_gebakken-artisjok-en-aardappel-met-groene-bonen-en-tijm.html