BY MILES VIERNES
POSTED ON 03/25/2014 1:06 AM | UPDATED 03/25/2014 8:18 PM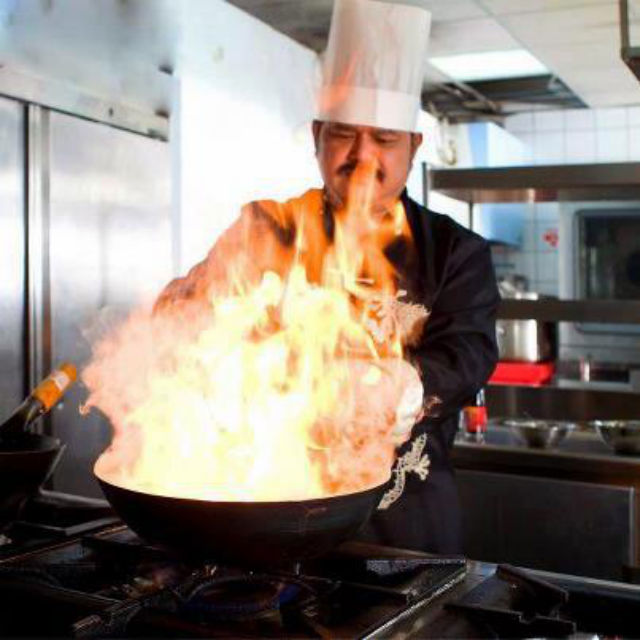 FIRE. Chef Rolly isn't just popular in the Filipino community, but also among the Greeks.
ATHENS, Greece – Whether in Manila, Manhattan, San Francisco or Finland, Filipino chefs have distinguished themselves in culinary arts. Perhaps the most prominent Filipino chef today is Cristeta Comerford, the first female and the first Asian American executive chef at the White House. (READ: White House Chef Cristeta Comerford: 'Just like mom')
Here in Athens, many Asian restaurants employ Filipino chefs. Among them are chefs whose experience, diligence and creativity in the kitchen have earned them praise from their employers, customers, and kababayan.
Nelson Llanes, a man of quiet disposition but with agile hands, is the only Filipino member of the prestigious Chef's Club of Greece. He became a member of this club in 2009 upon the recommendation of the executive chef of Sofitel Athens Airport where he was then working. He was one of the jurors In the 7th International Forum of Gastronomy, which was held at the Athens Metropolitan Expo Center last February.
"A chef does not only cook, but must also be knowledgeable in other aspects of cooking, like food costing, measurements, and storage, among others, " Nelson said.
Nelson is also the first Filipino teppanyaki chef here. He learned the technique of teppanyaki cooking at the Tokyo Marriott Hotel for 6 months. Japanese teppanyaki is a unique gastronomic experience which is performed by highly skilled chefs. It comes from the Japanese word teppan, meaning steel plate, and yaki, meaning stir fry.
An undergraduate in electrical engineering, Nelson's first job abroad was at the electrical maintenance section of Marriott Hotel Dubai for one and a half years. Then he was assigned in the hotel's kitchen to fill up a vacancy. His supervisors saw his potential, thus he was allowed to study at a culinary school in the morning and work in the evening. Through this set-up, he managed to complete courses in culinary Dubai cooking and Asian international cooking.
After 9 years, Nelson moved to Athens, Greece, to follow his fiancée who was then working in the city. His training and previous work experience landed him a job at the Ledra Marriott Hotel as a chef – from 1993 to 2008. Today, he is the only Filipino chef at the Sofitel Athens Airport Hotel. The hotel serves Mediterranean, Italian, Greek, Mexican and Asian cuisine. He takes care of Asian cuisine.
Sofitel's guests include prominent politicians like the president and prime minister of Greece, as well as wealthy ship owners, other businessmen and foreign guests.
According to him, Asian food is always at the top of the surveys of the restaurant's patrons.
"Marami na akong natulungan na mga kababayan natin. Tinuturuan ko sila ng pagluluto at madalas
naipapasok ko sila ng trabaho," Nelson proudly claims. (I have helped many kababayan. I teach them basic cooking lessons and most of the time I find jobs for them.)
Nelson plans to start a catering business in Baguio and Candon, Ilocos Sur.
Rolando Herico, better known as Chef Rolly, is another Filipino chef who has gained popularity not only among Filipinos but Greeks as well. He did not start as a cook but as a travel agent, telephone operator, and accounting clerk in various agencies in the Philippines. He even tried his luck in showbiz and had a brief stint in radio broadcasting.
"I was discovered by Mr. Rey de la Cruz," Rolly narrates. "Gusto niya akong gumawa ng bold film. That was the time of the 'pene movies'. Lumalabas ako minsan sa mga tv shows. Pero wala akong nagawang pelikula dahil ayaw kong maging bold actor," he added. (He wanted me to do bold films. I appeared in some TV shows. But I didn't land in the movies because I didn't want to be a bold actor.)
The college degrees which he completed (marine transportation from the Philippine Marine Institute, and foreign service from the Lyceum University of the Philippines) did not prepare him for a career in culinary arts. But as luck would have it, this is the field where he excelled.
His career in culinary arts started and blossomed in Greece. Like Nelson, Rolly joined his wife who was then working as a nurse here. For one and a half years, he worked in the kitchen of a rich ship owner. Although the employer treated him well, he resigned because he could not help him get a work permit. He wanted to have documents to be able to work legitimately.
Then he met a Malaysian married to a Filipina who recommended him to the Royal Thai Restaurant in Athens. He was hired as assistant cook. The chief chef, a Malaysian, saw his potential and genuine interest in cooking and encouraged him to learn more. His career blossomed.
When Noodle Bar opened in Syntagma Square, Rolly became one of its chefs. "During my term as chief chef, we were able to bring in 13 franchises," he proudly said. After 6 years, however, he joined another Asian restaurant, Yum Yum.
"Marami din akong naturuan sa mga kababayan natin na interesadong magluto," he said. They are now working in other restaurants in Greece. (I have helped many of our kababayan who are interested in cooking.)
Chef Rolly has become a byword among lovers of Asian cuisine in Greece. Six years ago, he was featured in Chef's Kitchen, a noontime show at Alter TV, one of the Greek television channels. The live audience and the host were impressed by his talent. "Maraming beses akong inimbita sa show na iyon. Pero dalawang beses lang ako nakapunta, " he said. (I was invited many times but I was able to go only twice).
In 2010, he was also invited by Antenna, another Greek channel, to promote Asian cuisine. Rolly now works at the Grecotel, an exclusive resort hotel in Cape Sounio. Its 7 restaurants offer a fusion of international and Greek cuisine. He is the only Filipino chef in the resort, and specializes in Asian cuisine. "I make my own sauces," he said.
He continues to provide catering services to the Filipino community who have good words to say about the dishes that he prepares. He has developed his own recipe for a hamburger which he calls Chef's hamburger. According to him, the hamburger is so delicious somebody tried to claim the recipe as his own.
The success he has attained in the field of culinary arts has not dampened his desire to return to the Philippines someday. His advice to our kababayan: "Magpakatotoo ka. Better to know everything than to know only something."
John Levi Reano belongs to the younger generation of chefs. A man with a happy disposition, John said cooking is his passion. To him, every dish is a work of art to savor and appreciate.
With the help of his sister, he came to Athens at a young age after finishing high school in the Philippines. Thrust in a new culture, he struggled to adjust to the city's way of life and the Greek language. Eventually, he was able to overcome the initial difficulties.
John enrolled in the Alpine Center: The Swiss Business School for Hotel and Tourism Education in Greece and got a diploma in culinary arts, a two-year course.
He then worked at Ponto Elounda Delux Resort first as a trainee, then assistant cook. His second job is at the Athens Ledra Marriott Hotel with the position, 2nd Commiss de Cuisine. His skills and expertise are in Asian cuisine, Mediterranean cuisine, Sushi, and Menu development.
According to John, the key to success is patience and hard work. "Huwag tumigil mangarap," he adds. (Don't stop dreaming.)
He dreams of one day opening a restaurant in Europe that serves Filipino dishes.
Chef Nelson, Chef Rolly and Chef John represent the Filipino chefs in Greece who are making good in Greece, inspiring other Filipinos who aspire to be excellent cooks. – Rappler.com
Source: http://www.rappler.com/move-ph/balikbayan/53798-filipino-chefs-greece