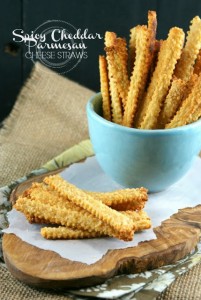 Fall has officially arrived.  Not sure why I always have a hard time saying goodbye to summer but each year it is challenging for me.  On Saturday in the Bay Area we had our first good down pour of rain.  With the rain, it made the entrance of fall just a bit easier to adjust too.  I love the recipes that are predominately fall inspired by pumpkin, squash, Brussels sprouts to name a few, along with enjoying homemade soups, braised dishes and the smell of baked goods permeating the house.
Spicy Cheddar Parmesan Cheese Straws
Makes about 7 Dozen
1 Cup Shredded Extra Sharp White Cheddar Cheese, grated
½ Stick Butter, room temperature
1 ½ Cup Panko Bread Crumbs
¾ Cup Flour
1/3 Cup Milk
1 teaspoon Cayenne
1 teaspoon Smoked Paprika
½ Cup Parmesan Cheese
Use a food processor with a metal blade, add the panko bread crumbs and pulse lightly. Next add all of the other ingredients (except the parmesan cheese) and pulse. It should be well blended and able to form a ball with your hands. If you need to add more milk do so at 1 tablespoon increments until dough combines, but not sticky.
Flatten into a disk and wrap in plastic wrap. Let chill 30 minutes. Position the oven racks in the middle. Preheat oven to 350 degrees.
Place the disc between 2 layers of plastic wrap and roll the dough to about 1/8th inch thickness. Sprinkle about ½ of the parmesan cheese on top and roll to ensure it permeates the dough. Cut the dough into strips using a ravioli wheel cutter. Cut into 5 inch strips lengthwise and about ½ inch at the width. Place onto a cookie sheet that is lined with parchment paper. Bake for about 12 to 15 minutes or until golden brown. Let cool on a wire rack. Repeat process until dough is all used.