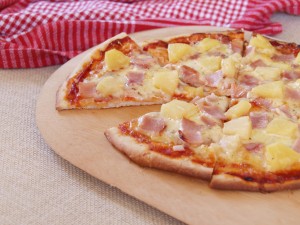 Make your own pizza and it will be much more tastefull than your ordered ones.
But before I start with the ingredients I will tell something about this pizza variant, I guess a lot of people might think that this pizza variant originated in Italy or Hawaii but despite its name it originated in Germany which is a modified version of the Italian Pizza. The basic ingredients for this pizza are ham, pineapple, tomato sauce and cheese but there are some regional variations like in Malaysia and Singapore they use halal chicken or halal chicken ham, some add olives and jalapeno and here in New Zealand they even use barbecue sauce. And this is my version.
Ingredients (Pizza Crust)
2 1/4 tsp yeast
1/3 cup water, Warm
3/4 tsp salt
1/4 tsp dry oregano leaves
1 cup water, cold
3 1/4 cup all-purpose flour + 1/2 cup for dusting
1 1/2 tbsp corn oil
1 tbsp + 1 tsp sugar
1/4 cup cornmeal (or ground corn chips)
olive oil for greasing the pan
Ingredients (Pizza)
4 pcs shoulder bacon, sliced into squares
3 pineapple slices, cut into cubes
3 tbsp tomato puree
1/2 white onion, finely chopped
1/2 cup colby cheese, grated
1/4 cup parmesan cheese, grated
1/2 cup mozzarella cheese, grated
olive oil
salt
freshly ground black pepper
Method
1. Mix yeast and 1 tsp sugar on warm water, set aside until very bubbly.
2. Now combine the rest of the ingredients for the crust but using only 1 1/2 cup of flour with the yeast mixture. Mix with a spatula until it forms a batter.
3. Now slowly add the remaining flour and start kneading in a floured surface (don't knead the dough too much that the texture is tough)
4. Now place it in a big greased bowl and cover it with a cling wrap, make sure it will handle twice the size of the dough. Place in a warm location (I usually place it in an oven preheated to 60C then turned off) for around 45 minutes or until it doubled the size.
5. Once doubled, remove from container, deflate and continue to knead, flatten using a rolling-pin make sure it is at your desired thickness (I will make this one thicker than normal), place it in a well-greased pan, brush with oil and dust with corn meal.
6. Place your toppings brushing the dough with olive oil initially and finalising with the three cheeses. Let it rest for 15 minutes.
7. Place in a preheated over at 230C for 15 to 25 minutes depending on the thickness of your crust.